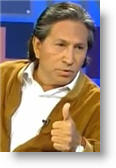 Former Peruvian President Alejandro Toledo said Wednesday that members of his Peru Posible party will not participate in President Ollanta Humala's cabinet, if the president decides to make changes this month.
Toledo, who was President from 2001 to 2006, ran against Humala in last year's presidential campaign. When Toledo failed to advance to a second round run-off vote, he threw his support behind Humala rather than back Keiko Fujimori, the daughter of jailed ex-President Alberto Fujimori.
Since Humala took office last July, Peru Posible has supported the government in Congress, where Humala's official Gana Peru party lacks a majority needed to pass legislation.
Some members of Peru Posible, including legislator Daniel Mora, also participated in Humala's first cabinet. Humala made changes to that cabinet last December, and there is growing speculation that he will also make changes to his current cabinet before his July 28 address to Congress.
Newspaper Peru.21 reported Toledo saying that his party will not participate in the Executive if asked by Humala.
"Peru Posible isn't going to participate," he said. "We provide support in Congress with laws that we think are appropriate, but we aren't in a give-and-take to ask for ministers," Toledo said.