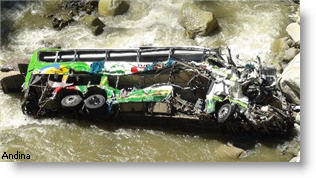 At least 30 people died early Wednesday when a bus traveling in Peru's central jungle region plunged off a cliff.
A bus owned by Turismo Central left Lima Tuesday evening en route to Satipo, a town in the Eastern part of Junin region. The accident occurred just before 6 a.m. at Km 85 of the Central Highway in Chanchamayo, about two to three hours from Satipo. The bus plunged into the Tarma river.
From Lima, the Central Highway leaves the Peruvian coast and climbs almost 5,000 meters to Ticlio and the La Oroya mining town. The narrow and sometimes busy two-lane highway levels out in the Peruvian highlands before beginning its descent into the Amazon. The road passes through the town of La Merced, in Chanchamayo, before continuing to Satipo.
The cause of the accident is unclear, although buses that travel at night on Peru's mountain roads regularly plunge off cliffs due to reckless speed or driver's fatigue.
In April, two separate bus accidents left 40 people dead, while in March another 40 people were killed in two other similar accidents in other parts of the country.