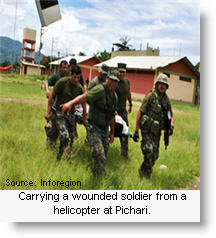 Two soldiers have been killed and two others injured following an attack on a military base in Peru's coca growing Apurimac and Ene river valleys, or VRAE, daily La Republica reported.
The attack occurred against the Mantario Union military base by remnants of the Shining Path insurgency. The group used long range weapons to fire on the base and then fled into the jungle, the report said.
The two soldiers that were injured were taken to a hospital in Pichari, located in Ayacucho region.
The Shining Path has largely been dormant since the 1990s when its founder and leader, Abimael Guzman, was captured in a middle-class neighborhood in Lima.
Today, remnant groups with little if any connection to the original aims set out by Guzman are found in the VRAE and the Upper Huallaga Valley in Huanuco region, where they provide security for drug traffickers.
Peru has seen a steady increase in the production of coca during the last decade. Coca leaf is the raw material required to produce cocaine. The VRAE and Huallaga Valley are the main coca producing regions in Peru, however production in the former has been increasing while output at the latter has declined recently.