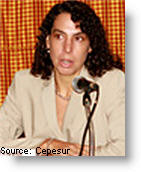 Economist Carolina Trivelli is expected to be appointed to Peru's newest ministry on Friday, according to daily La Republica.
La Republica reported on Thursday that President Ollanta Humala will appoint Trivelli to lead the Ministry of Social Development and Inclusion.
The formal creation of the ministry will be announced Friday during a decentralized cabinet meeting in Cusco, Humala's cabinet chief, Salomon Lerner Ghitis, said in a release.
The ministry will be responsible for implementing social programs, including a free pension plan for the poor, known as Pension 65.
Production Minister Kurt Burneo was previously expected to be appointed to head the new Ministry.
Trivelli is the lead researcher at the Institute of Peruvian Studies, where she has also served as director general. She has a masters degree  in agricultural economics from Pennsylvania State University and has also studied at Lima's Catholic University. Her specialties are rural poverty and rural/agricultural development and finance. 
She is a board member for CARE Peru and the Peruvian Society for Environmental Law, SPDA. She has also been president of the executive council of the Andean Ecoregion Development Consortium. Her studies on poverty led to her appointment last year to a special advisory commission on poverty set up by the National Statistics Institute, INEI, which also included former Central Bank president Richard Webb and the representatives of the World Bank, IDB, France's Development Research Institute, and the UN Population Fund.