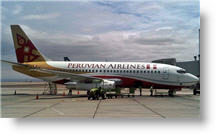 Peru's government has grounded Peruvian Airlines for 90 days based on reports that the Lima-based company has insufficient safety measures.
The Ministry of Transport and Communication announced late Thursday that the airline's flights would be suspended for 90 days.
"The main problem is that there is no safety management in the operations," said Ramon Gamarra, the head of the Civil Aviation Office.
Peruvian Airlines owner Cesar Cataño called the government's decision "exaggerated" and "abusive," and suggested that someone was willfully exaggerating to Gamarra about the company's safety standards.
Cataño said Peruvian Airlines would refund its customers. Indecopi has ordered that the airline refund customers or make good their tickets on other local airlines. Taca is taking up most of the passengers, which Cataño said numbered approximately 3,000 per day.
According to Gamarra, the flights could be definitively cancelled if the company does not improve its standards, daily El Comercio reported.
Gamarra said Peruvian Airlines has already had two incidents this year. The first occurred during a flight to Cuzco, when a motor shut down. And the second in Lima, when one of the planes had problems with its turbines, forcing the pilot to make an emergency landing at the Jorge Chavez International Airport.
The airline's legal advisor, Gabriela Mohana, said the observations were on purely administrative issues that did not warrant suspending the company's flights and that the company would look at the possibility of taking the Ministry of Transport to court if necessary. 
Other airlines that provide domestic service in Peru include Chile's LAN, as well as Star Peru and Taca.