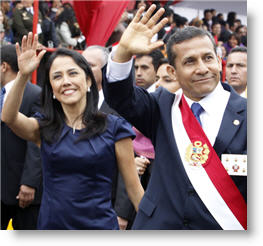 President Ollanta Humala on Wednesday denied charges by political opponents that he is running Peru's government alongside First Lady Nadine Heredia.
"There are people who think there is a co-government, something that I deny," Humala told reporters. "He who was elected to govern is the President," he continued. "The President governs with his ministers in coordination with the prime minister, not only because the constitution demands it, but also because that is the way to govern."
The charismatic and outgoing Heredia, 36, has taken a prominent public role in political life since Humala took office last year.  Until recently she has sat alongside the President at meetings with foreign leaders, and has always been a close advisor.  She often sends comments on Twitter, and speaks openly on political issues.  She travels frequently with cabinet ministers to launch or promote programs that influence social development, including agriculture and many programs on women's issues and on social development and inclusion.  
Her prominence has led some political analysts and critics of the government to say that she has too much influence in policy decisions, and both critics and supporters have discussed the possibility that she could be a presidential candidate in 2016 (which would not be possible without a Constitutional amendment).
In a recent poll published by magazine Poder, Heredia was seen as the second most powerful figure in Peru, only slightly behind Humala.
Investigative journalist Gustavo Gorriti, however, did not give much importance to the Ipsos Apoyo poll, which he said did not reflect reality because many of the people polled are private industrialists who have a certain influence in government decisions but "who are politically primitive" and only see things through their own prism.
Heredia supporters accuse her critics of chauvinism, unable to accept the equal relationship she shares with her husband, and her public role.  Her predecessors in the past 20 years have been President Alberto Fujimori's wife, Susana Higuchi, who was not only ousted from the palace by her husband but was allegedly tortured after denouncing that his family was involved in a charity scam; President Toledo's wife, the French-born Eliane Karp, who had no involvement in government but was unpopular because of her outspoken criticism of Peru's white elite; and President Alan Garcia's wife, the Argentine-born Pilar Nores, who was estranged from her husband in his second administration and during both his terms played the classic First Lady role, involved in women's and children's issues only.
In Heredia's case, however, she was a founder with her husband of the ruling Nationalist Party, and has always served as an important political advisor to her husband.
"We have always worked together," Humala said in reference to his wife. "We have created a marriage that for us is very important."
Earlier last week, President Humala also said Heredia's critics were "male chauvinists."
"With her, we have built a party, we started a political life together and we have reached, God willing and with the support of the people, the government," Humala said.