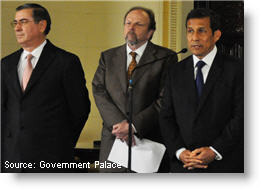 President Ollanta Humala said Thursday that his government will support an investigation into alleged influence peddling by his second vice president, Omar Chehade.
Humala, speaking during a broadcast press conference, said "the government backs the investigation in the Public Ministry. We salute that Congress… has taken immediate action regarding this topic."
When asked if he would seek Chehade's resignation, Humala said that the government will await the results of the investigation.
"We are going to be paying attention as well and we should wait for the results. According to the results from the Public Ministry, each one will assume their responsibility," Humala said.
Members of Humala's ruling Gana Peru party have been backing away from earlier statements of support for Chehade, saying now that they will await results from the investigation.
Chehade, a congressman and lawyer, was the head of Peru's extradition unit when the country successfully brought ex-President Alberto Fujimori to Peru to face human rights charges.
Chehade and his brother allegedly held a meeting with Guillermo Arteta, a former police general who was sacked by the government earlier this month along with many other high ranking officers.
Chehade's brother reportedly asked Arteta during lunch in a Lima restaurant to help evict workers from the Andahuasi sugar estate who are blocking entry to the farm of the Wong Group, majority shareholders of Andahuasi.
Arteta is said to have insisted on a proper court order for the eviction, and that he subsequently was among the generals who were fired. One of the other officers at the meeting was allegedly general Raul Salazar, who is now director general of the police force.
Chehade has denied any wrongdoing and reportedly left the restaurant before the issue of Andahuasi was raised.