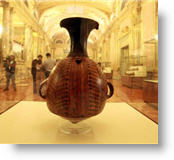 The inauguration of the exhibit in Cusco of archaeological remains from Machu Picchu, which were recently returned to Peru from Yale University, is scheduled for July 7, state news agency Andina reported.
Over 300 pieces, which are currently on display in the halls of the government palace in Lima, are expected to arrive in Cusco in the second week of June. The artifacts will be displayed in the Casa Concha, owned by the Universidad Nacional San Antonio Abad de Cusco (UNSAAC), which will house a new museum and research center.
"We are conducting the administrative, legal and technical procedures with specialized personnel to transfer the pieces to Cusco," UNSAAC's rector, Victor Raul Aguilar, said.
The pieces, which were taken from Machu Picchu to Yale almost a century ago by American explorer Hiram Bingham, have been on display since early April at the government palace.
The pieces will continue to be on display until this Sunday (April 24) and then will be stored at Lima's Museo de la Nacion until they are shipped to Cusco.
Yale is expected to return all 46,635 pieces to Peru by December 2012. Only about 360 pieces, however, are of museum quality.