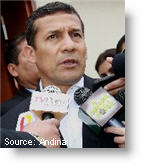 A national poll by firm Ipsos Apoyo shows President Ollanta Humala with a 65 percent approval rating in September, up from 55 percent in August.   A recent Datum poll said the approval rating was 70 percent nationally.
Humala's support is highest in southern Peru, where it stands at 70 percent, Ipsos Apoyo said. In Lima, Humala's approval rating is at 61 percent.
Humala's government, which took office on July 28 for a five-year term, has a 56 percent approval rating, up from 50 percent in the previous month, Ipsos Apoyo said.
Peru's Congress has a 40 percent approval, down slightly from the previous month, while the judiciary has a 30 percent approval, down from 35 percent.
Humala's Cabinet chief, Salomon Lerner Ghitis, has a 41 percent approval, down from 43 percent, while Finance Minister Luis Miguel Castilla has a 40 percent approval, down from 47 percent.
During Humala's campaign and since taking office, members of his Gana Peru party have pointed to "social inclusion" as the foundation of the new administration's policies, which have so far included raising taxes on the mining sector and improving consultation for indigenous groups ahead of natural resource projects.
Thirty-seven percent of those polled said that social inclusion for them means equal opportunities, while 24 percent said they understand it means support for the poor.
Eighty-nine percent of the respondents said they approve of the government's plans to increase taxes on mining companies. Lerner Ghitis announced in late August that the government had reached an agreement with miners to implement a new tax to collect an additional 3 billion soles ($1.1 billion) a year.
More recently, the government sent three bills to Congress for approval of the new tax scheme.
The poll was taken from September 14 to 16 and has a margin of error of 2.8 percent.