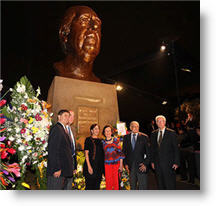 Lima's Mayor Susana Villaran on Wednesday evening unveiled a larger-than-life bust of former President Fernando Belaunde Terry, in the Parque de la Exposición, next to the Museo de Arte at the junction of Av. Garcilaso de la Vega and Paseo Colon, in downtown Lima.  
A day earlier, and a block away, Villarán unveiled a smaller but more polemic bust of Pedro Huilca, a national union leader who was gunned down by members of the Grupo Colina death squad during the early part of the Fujimori administration.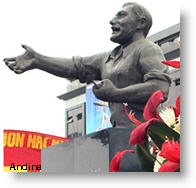 The Huilca bust, sculpted by iconic artist Victor Delfin, has been placed along the same space on Av. 28 de Julio downtown as a bust of the founder and leader of the Apra party, Victor Raul Haya de la Torre. 
Despite the city's agreement with Apra leaders to also place a bust in the same area of Apra union leader Luis Negreiros, a faction of the party are against "crowding" the space once only occupied by Haya, and have used the impasse to announce that they are backing the movement to recall Villaran.  Fujimori supporters, including congresswoman Martha Chavez, have also criticized the monument.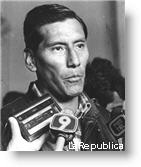 Pedro Huilca, a civil construction leader, was head of the powerful General Workers Confederation, CGTP, when President Alberto Fujimori closed Congress and led a new, more docile legislature to enact his sweeping privatization program that included laws to weaken workers rights, including collective bargaining, work stability, and overtime.  
A charismatic leader who had led several successful national strikes in the previous year,  Huilca was a guest speaker at the annual Executive Conference in early December 1992 when he defended the union position, and was strongly criticized at the closing ceremony by President Fujimori.  Two weeks later, Huilca was shot in his car parked outside his home in Los Olivos, north Lima.   Later investigations and witness statements have proved that his murder was committed by the Colina death squad that followed orders from Fujimori's spy chief Vladimiro Montesinos.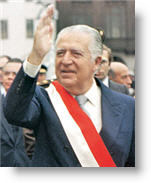 The monument to Belaunde, a very large but otherwise classic bronze sculpture, was made to commemorate 100 years since the birth of the former President, whose first government was cut short in 1968 by a military coup. Belaunde, an architect who pioneered in urban housing and other development projects, was ousted by the military when he refused to close an obstreperous Congress to push through his reforms. At the end of the 11-year military government, in 1980, he was elected again by an overwhelming majority.