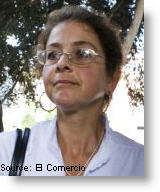 Lori Berenson arrived in New York today with her two-year-old son Salvador, following clearance yesterday by Peru's Immigration Office, Digemin, to leave the country temporarily for the holidays. 
Berenson, on parole, was granted a temporary absence from Peru by the National Criminal Court and had planned to leave last Friday when she was stopped at the airport by Immigration officials.  The initial statements at the airport were that she had arrived too late to board her flight, but the Immigration director, Edgard Mercado, yesterday clarified that his office needed to issue an order recognizing the court permit. 
Berenson is spending the holidays with her parents, Mark and Rhoda Berenson, in Kips Bay, New York.  It is her first visit home since 1995, when she was arrested in Lima on charges of collaborating with MRTA rebels (Tupac Amaru Revolutionary Movement) in their frustrated plans to take over the Congress building.
A military court initially gave her a life sentence as a presumed MRTA leader, but her case was revised in 2001 —as were many cases tried by the military— and she was sentenced to 20 years imprisonment.  She has served 15 years and was granted parole in 2010. She is required to live in Peru until the remaining five years of her sentence are completed.
Berenson must return to Peru by January 11, 2012.