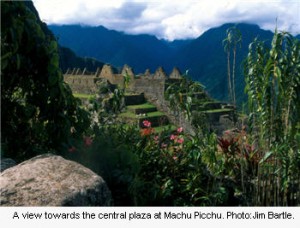 The ancient Inca citadel of Machu Picchu, uncovered from overgrowth and obscurity 100 years ago by U.S. explorer Hiram Bingham, will have received at least one million tourists by the end of this year, according to Percy Canales, president of the National Chamber of Tourism, Canatur.
The number of visitors represents a 30 percent hike over last year — when 660,000 people visited the site— and is undoubtedly due in part to the mass promotional campaign surrounding the centennial.  Of the total, 70 percent will have been foreign travelers and the remainder Peruvians, particularly school groups.  The larger number of foreigners were visitors from the United States, Spain and Japan.
Canales said that the number of tourists was expected to increase in 2012 throughout Peru, but that Machu Picchu will continue to be the key attraction, with continuing centennial celebrations that will include a return by opera singer Juan Diego Florez for another concert.
Despite the sharp increase in visitors, heavy rains and minor floods along the railway line between Cusco and Machu Picchu earlier this year meant that many visitors were turned back.  Canales said that the local government and the private travel industry need to work together to ensure that access routes are properly protected.