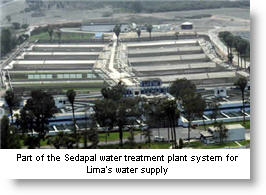 Peru's government plans to make a multi-dollar investment over the next three years to provide running water to all of the residents in the country's sprawling, desert capital of Lima.
Housing Minister Rene Cornejo said the government is to invest 8.44 billion soles ($3.27 billion) in expanding the coverage of potable water and improving the current network of pipes, state news agency Andina reported.
The investments will be used for 148 projects, 81 of which will be for ensuring that all residents have access to water. About a million people in Lima, a city of 9 million inhabitants, don't have access to running water. The rest of the projects will be maintenance works on the current system.
The projects are to be completed by July 2016, Cornejo said.
Lima is the world's second largest desert city, after Cairo. Many of the outlying areas of the city still lack full water and sewage connections, relying on water trucks that charge up to four times the standard rate paid for full connections in developed areas from state utility Sedapal.
At the same time, the population density in upscale residential and commercial areas such as San Isidro and Miraflores, much of it developed in the 1940s and 1950s, has increased exponentially, requiring volumes and pressure of water that the pipe system is hard pressed to supply.