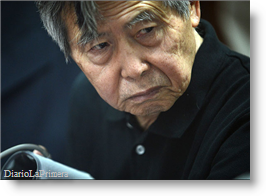 Peru's penitentiary institute has indefinitely suspended the telephone line for jailed ex-President Alberto Fujimori, authorities said Tuesday.
The head of the institute, Jose Luis Perez Guadalupe, said that the decision was made due to Fujimori's "total rebellion."
"It is total rebellion against his sentence and the prison norms. This is absolute rebellion against authorities and the law," Perez Guadalupe said, according to daily El Comercio.
Fujimori, 75, has made several phone calls to local radio and television stations in recent weeks in order to give interviews, which is prohibited under Peruvian law. The pay phone he has been using was in the small infirmary near the 8,000 sq.ft area used as his cell.
In addition to the phone calls, Fujimori has also launched a media campaign on social media, namely  Twitter and Facebook, to criticize President Ollanta Humala's administration and defend his own tarnished record.
Fujimori's campaign comes as he starts a new trial over allegations that he purchased the editorial line of media outlets in the 1990s with funds from the Armed Forces in order to attack opponents.  If he is found guilty, he could be required to pay some S/.25 million to reimburse the funds.
Fujimori was already convicted of several corruption charges and for ordering death squads to kill 25 people in the early 1990s, known as the La Cantuta and Barrios Altos cases. He is serving a 25-year prison sentence.