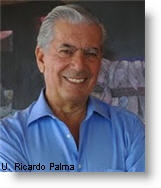 The house where Peruvian novelist and Nobel Prize winner Mario Vargas Llosa was born will be turned into a museum, Culture Minister Juan Ossio said.
In October, Vargas Llosa was awarded the Nobel Prize for Literature, the first Latin American to receive the award since 1990 when it was given to Octavio Paz of Mexico.
The project will be led by Luis Llosa, the nephew of Vargas Llosa. The house in Arequipa, Peru's second largest city after Lima, will be converted into a museum by the end of next year, daily El Comercio reported.
"I imagine the house converted into a historic place, set up in the best way," Ossio said. "It will be an additional site among the multiple beautiful places that Arequipa has, that are tourist attractions. It will be a new area where tourists can come, which will mean greater economic revenue for the city."
Vargas Llosa was born on March 28, 1936. Shortly after, he moved with his family to Cochabamba, Bolivia. He later returned to Peru, but moved to the northern Piura, where he stayed until moving to Lima in 1946.
Following his unsuccessful campaign for Peru's president in 1990, Vargas Llosa has spent much of his time in Europe.
He is currently living in New York and teaching at Princeton University twice a week. He has homes in Lima and Madrid, returning to Lima every year in December for the South American summer.