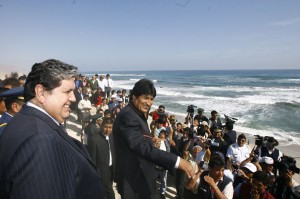 President Alan Garcia signed on Tuesday a pact with his Bolivian counterpart Evo Morales that will give the landlocked South American nation access to port facilities located in Peru's southern coast.
The agreement, which is valid for 99 years, will provide Bolivia with a tax-free maritime zone in Peru's Ilo port, daily La Republica reported. It will also provide Bolivia with tax-free industrial and tourist zones, in addition to allowing Bolivian military ships to dock at the Ilo port.
The accord was presented as a turning point in relations between Peru and Bolivia, which have been strained in recent years due to diplomatic conflicts.
"It is unjust that Bolivia does not have sovereign access to the sea," Garcia was reported as saying in a release, adding that Peru "will never be an obstacle" for dialogue on Bolivia gaining access to the Pacific.
"Peru recognizes that it is necessary for Bolivia to recuperate its access to the sea," Garcia said.
The deal is expected to create substantial economic benefits for Bolivia, state news agency Andina reported.
"A country that has a port increases its gross domestic product between 0.5-3 percent, depending on the commercial and tourist flow," said Bolivia's Economics and Housing Minister Luis Arce. "That is why the protocol signed today is very significant because it generates a multiplier effect."
Bolivia's status as a landlocked nation dates back to the 1879-1883 War of the Pacific. As a result of the war, both Bolivia and Peru lost substantial territory to Chile.