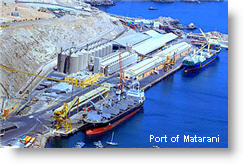 Peru's gross domestic product grew 5.94 percent in September, according to the National Statistics and Information Bureau, INEI.
Growth in September was lower than expected by analysts and the lowest rate of growth in the past five months, financial daily Gestion reported.
Peru's economy expanded 6.3 percent in August and 7.4 percent in July. Economists expected the GDP to rise 6.5 percent in September.
In September, the construction sector rose a strong 19 percent, boosted by robust demand for cement and advances in public works, the INEI said.
The mining and hydrocarbon sector gained 4.95 percent, boosted by increased output from mining company Antamina. Antamina is one of Peru's biggest base metals producers. It completed an expansion project earlier this year, which has helped to boost copper production in recent months.
Manufacturing sector activity advanced 1.31 percent in September, while retail sector gained 5.28 percent.
The water and electricity sector rose 4.19 percent, while fishing jumped 19 percent.
Economy and Finance Minister Luis Miguel Castilla expects Peru's economy to gain around 6 percent to 6.5 percent this year.