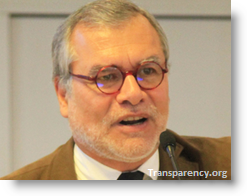 Transparency International, the global anti-corruption organization, has elected former Peruvian prosecutor Jose Ugaz as the group's new chair.
Ugaz headed the Transparency's Peru chapter and as a state prosecutor successfully tried hundreds of corrupt officials.
He is best known for his role in the corruption case against President Alberto Fujimori, who is currently serving a 25 year prison sentence for corruption and human rights abuses.
"I know what corruption is and how to fight it," Ugaz said in a statement issued by Transparency announcing his appointment as chair during the group's annual meeting in Berlin. "The corrupt need to see Transparency International as their biggest fear. Nobody is above the law."
Transparency said that Ugaz's appointment is the first time in the organization's 21 year history that a leader of one of its chapters has been chosen as the head of the group.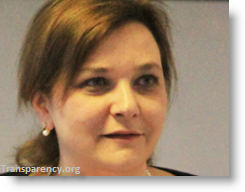 Elected to be vice chair of Transparency is Elena Panfilova, who has been president of its Russian chapter.
"I believe that the only way to bring the corrupt back to reality and to show their real faces is to make them know that their cherished impunity is not endless," Panfilova said.
Founded in 1993 by a former World Bank officer, German economist and lawyer Peter Eigen, Transparency now has 100 members worldwide, including chapters and organizations that are in the process of becoming chapters. It has developed a long-term strategy to increase the fight against corruption and engage more people in its movement.
Transparency International's election of Ugaz is a point of pride to many in Peru, at a time when intertwined layers of corruption appear to have pervaded politics and the judiciary nationwide.  But there are also many who won't be amused.
Ugaz was Peru's first anti-corruption prosecutor, leading high profile cases that eventually led to the key investigations and trials of President Alberto Fujimori and his spy chief Vladimiro Montesinos.
With a team of 25 specialists, three deputy state attorneys and a Financial Intelligence Unit, in 2000-2002 he led the investigations on 1,500 people involved in government corruption during the Fujimori administration. He opened court cases against 532 high government and military officials, including Alberto Fujimori himself, Vladimiro Montesinos, the former Attorney General, the President of Congress, Supreme Court justices and electoral magistrates, broadcasters and 14 army and police generals. He recovered $150 million from secret accounts in foreign tax havens and managed to get a further $205 million frozen in foreign accounts.
Ugaz joined World Bank's Institutional Integrity Office in 2004-2006, was an expert member of the working group that prepared the Asset Recovery Handbook: A Guide for Practicitioners, published by the World Bank, and is a member since 2008 of the International Anti-Corruption Conference. He has been a speaker on corruption and money laundering at events worldwide.
In May this year, he published his memoirs under the title Caiga Quien Caiga (Whoever May Fall).