Pope Francis is to visit Peru and Chile at the beginning of next year, according to an announcement issued at the Vatican on Monday.
The statement was read in Lima by the Papal Nuncio, Grzegorz Piotr, during a meeting with President Kuczynski, Cardinal Juan Luis Cipriani and the archbishop of Trujillo, Miguel Cabrejos.
The pope is to visit the cities of Lima, Puerto Maldonado and Trujillo between Jan. 18 and 21, after his visit to Chile.  The minister of Labor and Employment Promotion, Alfonso Grados, has been assigned to coordinate the logistics that the visit will require.
The visit will be "a huge success" and "will mark, as Monsignor Cipriani has said, a before and after," said President Kuczynski.  "Before, agitation, and afterwards morality and tranquility, which is why this visit is so important."
Kuzcynski, who is up against a constant barrage of attacks from the majority opposition in Congress since he took office a year ago, is understandably optimistic about the visit —  the majority of the population is Roman Catholic and not only are earlier visits by Pope John Paul II still remembered well but Pope Francis is also very popular in the land of Gustavo Gutierrez, priest and author of liberation theology.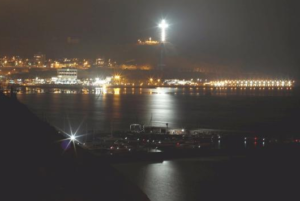 Pope Paul II visited Peru in early 1985, during President Fernando Belaunde's administration, when the country was not only undergoing a serious economic crisis but was into the fifth year of increasing violence from the Shining Path rebels.  Yet the Pope travelled to Arequipa, Piura, Trujillo, Ayacucho, Cusco and Iquitos, and one million people are estimated to have attended the mass held in Lima at the Monterrico racetrack.
John Paul II again visited Peru briefly in 1988, to attend a Latin American Eucharistic Congress in Lima.  The large cross on the Morro Solar, at the far end of the Lima bay in Chorrillos, was commissioned by President Alan Garcia as a welcome gift to the pope — the 45-meter structure, which is lit at night, was made with the remains of the twisted metal from hydroelectric transmission pylons that had been destroyed with dynamite by the Shining Path.