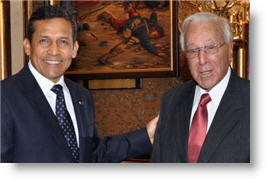 President Ollanta Humala has awarded the Grand Cross of the Orden del Sol to Luis Bedoya Reyes, founder of the Partido Popular Cristiano, PPC, and a charismatic and iconic figure in center-right politics for the past 50 years.
President Humala said the award had been given in recognition of Bedoya's honesty, decency and defense of democracy, and his use of dialogue, consensus and intelligence as his weapons.
"We hope that all of us politicians will always learn from you. It is people like you who raise the bar of politics and one would hope there were more like you. We need more teams, less scandals."
Bedoya, 82, popularly known as the Tucán because of his prominent nose, thanked the President for the award. 
"I practiced a series of speeches, I thought this way and that, and then I said to myself, I better wait and see what he says, because you are full of surprises, but of pleasant surprises: ever firmer and ever more serene," Bedoya said at the Government Palace ceremony.
Rarely at a loss for words, Bedoya congratulated Humala for his political "adjustment,….. because as politicians we know perfectly well that one thing is coming from the common people, another is from the competition gallery and yet another from power."
"Continue in the efforts you are making, not between water and gold, but fundamentally between progress and the assimilation of the people who are marginalized; there must be a balance," he added.
Attracted to Christian socialism, Bedoya became a member of the Christian Democrat party which backed Fernando Belaunde and his center-left Accion Popular party in the 1963 presidential elections.
He served briefly as Minister of Justice before becoming Mayor of Lima in 1964 —the first mayor in Lima's history to be elected by popular vote. He served two terms, remembered for his complete modernization of city hall management, and his master work, the building of the expressway between downtown Lima and Barranco, a project much criticized at the time and dubbed the "zanjón" or big ditch.  
He founded the social-democrat/Christian democrat PPC in 1966 with other leading politicians when the Christian Democrat party refused to speak out against the military government.  He was a member of the Congress that re-wrote the Constitution in 1979, and was twice candidate for President, in 1980 and 1985. 
His eloquent call in 1980 to vote without fear for a modern nation was a highlight in his career, but after 11 years of military government, people preferred to vote Fernando Belaunde back into power rather than risk a win by the APRA party, which had led the recent Constitutional Congress (traditionally, APRA held a steadfast 30%+- of the electorate, while the other 70%+- have always been steadfastly anti-APRA).
In 1987, Bedoya was outspoken against President Alan Garcia's plan to nationalize the banking system, and in 1989 joined his party with Belaunde's Accion Popular to support Mario Vargas Llosa and the short-lived FREDEMO party.  Both PPC and Accion Popular, however, actually detracted from Vargas Llosa's popularity.    
Bedoya encouraged Lourdes Flores Nano, as one of several younger party members, into the limelight during those heady speeches and campaigns against nationalization, backing her to eventually be elected president of the PPC in the late 1990s.  Flores was a presidential candidate in 2001 and 2006 and candidate for mayor of Lima in 2010.  She resigned as party leader last month, and the party elected Raul Castro as their new president this past week.
Although he has now taken a back seat in PPC, Bedoya is still a mentor to many in the party.