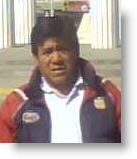 A radio journalist in Peru's southern Chincha area, who was known for his critical reports on local authorities, was gunned down at the end of last week.
Jose Oquendo Reyes, host of the news program Sin Fronteras on Radio Alas Peruanas, was shot five times at close range by unidentified men outside his home in the town of Pueblo Nuevo, according to the New York-based Committee to Protect Journalists.
"Authorities must determine whether the killing was related to Oquendo Reyes' work," CPJ deputy director, Robert Mahoney, said.
Oquendo Reyes' death marks the second slaying of a journalist in Peru this month and the third this year. All three journalists worked in Peru's provinces.
The president of the National Association of Journalists in Chincha, Luz Cordova Pecho, said Oquendo Reyes was known for investigative work, while the journalist's wife, Marina Juarez, said that he had not received threats recently, the CPJ reported.
Two people have been detained in connection with the shooting, Cordova Pecho said.
In early September, television journalist Pedro Flores died after being shot. Flores, 36, covered farming news in the coastal town of Casma in Ancash region north of Lima for his own Vision Agraria show on TV. Police have been investigating whether the incident was politically motivated.
In May, radio journalist Julio Castillo was shot to death during lunch in the city of Viru, on the north coast in La Libertad department. According to CPJ, six journalists have been killed in Peru for their work since 1992.