Three firefighters died in a night-long fire in Lima's low-income district of El Agustino.  The fire broke out on Oct. 18 in a shoe factory and spread quickly to the adjacent building, a Health Ministry warehouse used to store emergency stocks of medicines and wheelchairs as well as administrative archives.
The full-alarm fire required over 20 fire brigades to work in shifts over 20 hours to put out the fire.
The volunteer firemen — Alonso Salas Chanduví (25), Raúl Lee Sánchez Torres (35) and Eduardo Jiménez Soriano (45)  — were reported missing by their fire chief only hours after they began to work on the fire.  Their bodies were found the following morning, under the rubble of a 20ft wall that had collapsed when its steel pillars buckled under the heat.
Peru's national fire corps —as in Ecuador, Chile and Paraguay—  is made up entirely of volunteers, with the exception of the truck and engine drivers and administrative personnel.    Training of the men and women — many of whom are engineers, physicians, even lawyers —is as demanding as any professional corps.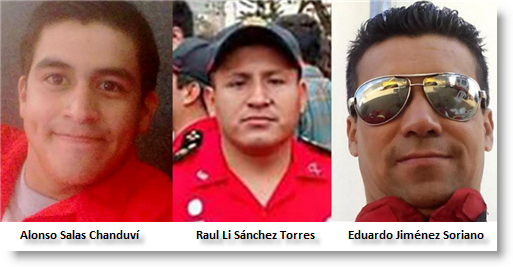 Salas, Sanchez and Jimenez belonged to the Roma No.2 fire company, which occupies a 19th century building on the Plaza Bolivar across from the Congress building in downtown Lima.
The Roma No.2 is Peru's second oldest fire company, founded in 1866 as the Compagnia di Pompieri Volontari Roma by members of the Italian community in Lima when the country faced attacks by the Spanish armada trying to recover Spain's colonies.   Several other fire companies were established by communities of foreign nationals around the same time, including the France No.3 (also in 1866). The British Fire Brigade, now the Victoria No.8, was established in 1873.
The fire in El Agustino destroyed the shoe factory, and according to Health minister Patricia Salas, 80% of the equipment and stock in the warehouse.