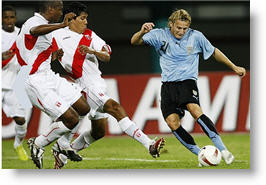 Peru's run for the Copa America came to an end Tuesday with a defeat in the semifinal at the hands of Uruguay.
Uruguay grabbed the momentum early on, although Peru managed to hold its opponents back until the second half when Liverpool striker Luis Suarez, 24, knocked in two goals.
Peru's chances were further dashed at 69 minutes when Juan Vargas was given a red card for elbowing Sebastian Coates.
Uruguay, which knocked out host country and favorite Argentina in the quarter finals, will now face in the final the winner of Paraguay and Venzuela. The final game is scheduled on Sunday, July 24 in Buenos Aires.
Peru, which managed to upset Colombia in the quarter final, will battle for third place in La Plata on Saturday.