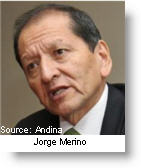 Mines and Energy Minister Jorge Merino ruled out Tuesday earlier reports that mining company Yanacocha had informed the government that it will go ahead with the Minas Conga gold project.
"They haven't made an official announcement on the issue yet," Merino said in comments to television station Canal N.
The Minas Conga project, which could require an investment of $4.8 billion, has been on hold since last year. It has come under pressure from politicians and residents in Cajamarca region, where the project is located, who are concerned about its environmental impact, pointing to plans to drain four lakes and replace them with reservoirs further downstream.  One of the lakes would be drained to be used as a tailings pond.
Government-commissioned European consultants reviewed the project's environmental impact study earlier this year and recommended a number of measures to improve the project, including saving two of the mountain lakes. The adjustments would entail additional investment.
The company has been reviewing the recommendations and has been expected to decide soon if it will accept to implement them. 
On Tuesday, newspaper Peru.21 reported that Yanacocha, owned by Newmont and Buenaventura, had sent a letter to the government last week accepting the changes.
Newspaper El Comercio, in the same publishing group, following up on the report, said that its sources in the premier's office and in the company had said that the company had not made an official decision.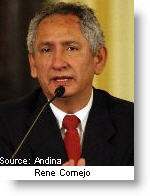 Cabinet chief Oscar Valdes is expected to make an announcement this Thursday on the next steps for Conga.   
Meanwhile, Cajamarca's regional president, Gregorio Santos, who has been leading the protests and the now 20+ day strike against the Conga project, has requested to sit down with the government to seek common ground.  Housing minister René Cornejo, who has been assigned by Valdes to head a "crisis commission" for the Cajamarca issue, said the government has accepted Santos' request.