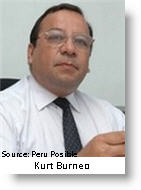 Economist Kurt Burneo, a former president of Peru's Banco de la Nacion and director of the Central Bank, says he will stop supporting presidential hopeful Ollanta Humala's campaign if the latter does not take into consideration his proposals, daily Peru.21 reported.
Burneo is one of over 100 leading centrists who recently decided to publicly back Humala, who will face Congresswoman Keiko Fujimori in a June 5 run-off vote for Peru's presidency. Currently head of the economics program at San Ignacio de Loyola university, he led the economic plan in the Peru Posible campaign for ex-President Alejandro Toledo, who finished fourth in the April 10 vote and failed to make it to the second round. 
"If I realize that there is no real welcome and it is all for show, obviously I will be the first to step aside," Burneo says.
Another leading economist to join Burneo in supporting Humala is Oscar Dancourt, a former director and later president (2004-2006) of the Central Bank and currently leading professor of economics at the Catolica University,PUCP.
Burneo says that Toledo and Humala's administration share a central aspect, which is inclusive economic growth. His economic plan in Peru Posible included greater government spending in social inclusion programs and a proposal to raise income tax on mining companies to 40%.  The current corporate tax is 30% and mining companies pay an additional 1-3% as royalties on gross income.
Meanwhile, Peruvian author and Nobel Prize winner Mario Vargas Llosa confirmed that he plans to vote for Humala.
Vargas Llosa has been a harsh critic of Humala. However, he says he prefers the left-wing nationalist to Fujimori, who he fears will pardon her father. Ex-President Alberto Fujimori is currently serving a 25-year sentence for human rights violations and corruption charges during his autocratic government in the 1990s.
"Without happiness, with a lot of fear, I'm going to vote for Humala and I'm going to ask democratic Peruvians to do the same as me," Vargas Llosa said.
Critics fear that Humala will implement policies that could have a major impact on the economy and install a similar government as President Hugo Chavez of Venezuela. Humala has said he will not implement radical changes, and has been trying too boost confidence in his campaign by attracting centrists.