Expectations that Peru's economy will expand by more than 6 percent this year are unrealistic, as the global economy struggles and business confidence in the Andean country weakens, according to Pedro Pablo Kuczynski.
The well-known economist, who has served as Peru's prime minister, minister of economy, and mines and energy minister, said that Peru's gross domestic product is not likely to grow more than 4 percent in 2013.
Kuczynksi's forecast is far lower than the consensus. A recent Central Bank poll of 21 economic analysts found the average forecast for growth to be 6.2 percent for 2013, which would be only slightly less than the 6.3 percent growth in 2012.
"I think there are a lot of people who are dreaming," Kuczynski said in comments reported by financial daily Gestion.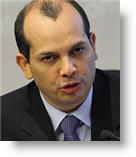 Kuczynski's comments follow recent statements by Economy and Finance Minister Luis Miguel Castilla, who has ruled out a cooling of Peru's economy following the release of sluggish data in March.
Peru's GDP grew just 3 percent in March, the slowest rate of monthly growth since 2009, bringing first quarter growth to 4.79 percent, according to government data released last week. While growth in March was expected to be low due to fewer working days compared to the year-earlier month, it was far weaker than many economists had expected.
Most economists expect that Peru's GDP will see strong growth in April, due to more working days.
Other signs of a slowdown in Peru's economy, which has been one of the world's fastest-growing in the past decade, is the sharp decline in exports, resulting in the country's first quarterly trade deficit since 2008.
In addition there are a growing number of economists who are now forecasting that the global commodities boom that drove Peru's growth during the past decade is coming to an end.
"If the historical pattern holds, we are now entering a long period of falling commodity prices, which could last two decades," Ruchir Sharma, the head of Morgan Stanley's emerging markets equity team, wrote in a May. 5 article in Bloomberg View.
"Meanwhile, the nations that have reveled in the commodity boom of recent years are likely to face a disheartening return to the mundane ordeals of normal life. Buddhist monks have a phrase for it: "After the ecstasy, the laundry."