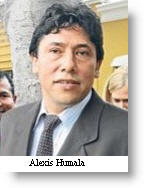 The head of Peru's cabinet, Juan Jimenez, said the government will investigate allegations that a company partially owned by President Ollanta Humala's brother received state contracts.
A media report by television program Panorama over the weekend said that a company called Krasny has had contracts since last year to supply the government with medicines. The contracts were worth more than half a million soles (approximately $190,000).
Alexis Humala, the President's youngest brother, has a 25% interest in the company, local media reported. President Humala took office in July last year. In Peru, family members of elected officials are prohibited from participating in government contracts.
Jimenez, who was previously Peru's Justice minister, said that civil servants who approved the contract will be brought to justice.
"No one has privileges in Peru, least of all the relatives of the President of the republic," Jimenez said.
Before Ollanta Humala took office last year, his brother Alexis caused a stir by traveling to Russia where he held meetings with high-ranking government officials aimed at courting business for Peru.
Alexis presented himself as a representative of his brother's incoming government, but Peruvian officials said he was acting on his own.
First lady Nadine Heredia, who many analysts say has considerable political influence in Peru's government, told reporters that Alexis Humala could face charges. "If there is wrongdoing by this person… then there will be disciplinary measures corresponding to the law," she said.