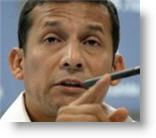 President-elect Ollanta Humala left for Bolivia on Monday for the second part of a South American tour aimed at opening dialogue with regional leaders.
Humala, who recently completed a tour that included visits to Brazil, Uruguay, Argentina and Chile, is scheduled to meet with Bolivian President Evo Morales on Tuesday, daily El Comercio reported.
"The idea is to start creating international relationships with the heads of states," said Humala. "With President Evo Morales there is a relationship that goes back several years, and what is important is that from these talks, peoples from both countries benefit."
"I think we need to be mutually supportive," Humala added. "We are a people with the same origin, the Aymara nationality very strongly rooted in southern Peru and Bolivia."
Humala will also travel to Ecuador, Colombia and Venezuela.
Peru's relations with Bolivia under outgoing President Alan Garcia have been marked by numerous diplomatic spats over the past few years.
In 2009, Morales called Garcia "one of the world's worst presidents," along with former U.S. President George W. Bush.
In June 2007, Morales called Garcia "very fat and not very anti-imperialist" after Peru delivered a letter of protest to Bolivia over Morales' allegation that Peru's demand for the extradition of his former adviser Walter Chávez was a CIA conspiracy being used to discredit his leftist administration.
Then, a month later, days after recalling his ambassador from Bolivia, Garcia sharply told his Bolivian counterpart to butt out of Peru's domestic affairs in reply to the Bolivian leader's call for Peruvians to protest the alleged establishment of United States military bases on Peruvian soil.