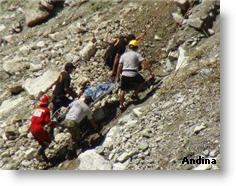 President Ollanta Humala on Thursday called for greater road safety following the death of more than 30 people this week when a bus plunged off a mountain road.
A bus traveling on Peru's Central Highway from Lima to the jungle town of Satipo skidded off a mountain road in the Chanchamayo region early Wednesday, plunging over a cliff into the Tambo river and killing 35 people on board, according to the latest estimate. The number of fatalities could increase as some passengers are still missing while others are badly injured.
That accident was just the latest in a number of similar incidents this year. Several buses traveling at night on mountain roads have fallen off cliffs, killing many of the passengers. The accidents are often blamed on reckless driving, including speeding, or driver's fatigue.
Speaking to municipal authorities on Thursday, Humala said there needs to be a broad commitment to improve public transportation safety.
"We need to work on the issue of highway safety," he said, according to state news agency Andina. "This situation shouldn't repeat itself."
In April, two separate bus accidents left 40 people dead, while in March another 40 people were killed in two other similar accidents in other parts of the country.