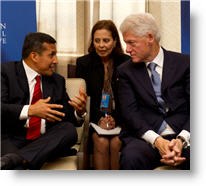 President Ollanta Humala left late Monday for New York where he will participate in the 66th General Assembly of the United Nations in addition to other meetings with government and business leaders.
Humala, who took office July 28, will address the UN on Thursday to present his economic policies and his administration's plans for social inclusion. His minister of Health, Alberto Tejada, spoke at the UN on Tuesday.
In addition to his presentation, Humala will also meet on Wednesday with Brazilian President Dilma Rousseff and UN Secretary General Ban Ki Moon. On Thursday morning, he is scheduled to meet with South Korean President Lee Myung-Bak, state news agency Andina reported.
Humala is accompanied by Finance Minister Luis Miguel Castilla and Central Bank President Julio Velarde, several cabinet ministers, and other government officials.
One of President Humala's first meetings in New York was with former President Bill Clinton, whose Clinton Global Initiative is working in Peru under the Clinton Giustra Sustainable Growth Initiative.  He also met with the president of the Inter-American Development Bank, BID, Luis Alberto Moreno.  
Humala is also accompanied by his wife, Nadine Heredia, who has her own schedule, which has included a meeting with Mirta Roses, director of the Pan-American Health Organization, PAHP, and also regional director for the Americas of the World Health Organiztion, WHO.   On Thursday, the first lady will also speak at the Clinton Global Initiative Forum within the discussion group on "early intervention for 12 year old girls", which seeks to find solutions to obstacles that interrupt education and chances for a better life for children and adolescents. 
Meanwhile, on Tuesday Humala's cabinet members and other officials also met with investors and businesses to discuss investment opportunities in Peru, Castilla said. 
"The Peru Investment Forum 2011 is another demonstration of the interest among international businesses to invest in Peru," Castilla said.
"Peru is a safe place for investments and we are on a par with the big economies thanks to good macroeconomic management," the minister said, adding: "The expectations are very high."
Some of the main participating companies in the forum include Credit Suisse, Deloitte, Goldman Sachs, Morgan Stanley and Wells Fargo.
Castilla will also meet with members of the World Bank and International Monetary Fund.