President Ollanta Humala on Monday met with former presidents Alan Garcia and Alejandro Toledo in a sign of unity ahead of an international ruling on Peru's maritime border dispute with Chile.
The meeting, which included Premier Cesar Villanueva and Foreign Affairs Minister Eda Rivas, lasted about three hours. Justice Minister Daniel Figallo also participated in the meeting, held at the presidential palace.
President Humala's office did not issue a statement following the meeting. Garcia and Toledo also declined to comment.
The secretary general of Toledo's Peru Posible party, Luis Thais, called the meeting positive. "It has shown that national issues are above any personal differences," he said in comments reported by state news agency Andina. "It is a message of support in an important task for the country such as [The Hague] ruling."
The relationship between the three political leaders is contentious. Garcia has been highly critical of Humala's administration, criticizing his successor of failing to maintain strong economic growth, despite international ratings that show the contrary . Also, a member of Humala's ruling Gana Peru party is leading a congressional investigation into corruption committed during Garcia's administration. Garcia says the investigation is an attempt by Humala and First Lady Nadine Heredia to prevent him from running for office in 2016.
Toledo has also had a poor relationship with Garcia, while his ties with Humala are much stronger. Toledo's Peru Posible party has supported the Gana Peru party in Congress, giving it a majority to pass legislation. Toledo was President of Peru from 2001 to 2006. Garcia ruled from 2006 to 2011, following an earlier and financially disastrous 1985-1990 administration. Humala took office for a five-year term in 2011.
The International Court of Justice at The Hague is to deliver its ruling on January 27, six years after Peru filed the complaint.
The dispute dates back to the 1879 – 1883 War of the Pacific, in which Peru and Bolivia lost substantial territory to Chile. Central to the current row is 38,000 square kilometers, or about 14,500 square miles, of fishing-rich sea which Chile currently controls.
Chile says the current border, which runs parallel to the Equator, was established under the two agreements from the 1950s, which Peru claims were fishing treaties and that the maritime zone has never been settled.
Peru's proposed border follows the countries' south-western sloping border into the ocean, with the disputed area marked in dark blue in the map below.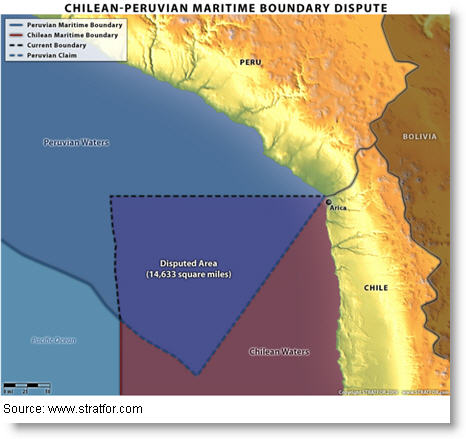 The Governments of both Chile and Peru have said they will respect the ruling, although the issue could create increased diplomatic tensions and both administrations have been meeting with their own country's political groups and other players to lower  nationalistic temperatures.
Peru's government has been seeking to build national unity before the ruling by meetings held by President Humala and other high-level government officials in the past week with opposition politicians, media directors, and journalists.
Pedro Pablo Kuczynski, well-known Peruvian economist and former presidential candidate, said that political leaders will receive the ruling with "moderate" responses.
"When we hear the ruling on the 27th, whatever it is, all of the leaders are going to be quiet until the President speaks, and then we will make our comments," Kuczynski said.
Peruvians are confident that the ruling will go their way. According to a poll published over the weekend by Ipsos Apoyo, 55 percent of the population believes that the court will side with Peru. Twenty-seven percent of respondents said they expect a partial victory, as the court will rule in favor of Peru in some areas but not in others.
Ninety percent of those polled said that Chile should respect the decision, while 85 percent said that Peru should respect the ruling no matter what it is.