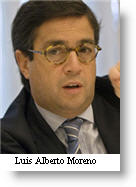 Peru could become one of Latin America's top economies if it maintains the robust economic growth it posted during the past decade, the Inter-American Development Bank said.
Peru's economy has posted strong growth thanks to private-sector investments coupled with stable fiscal management. In 2010, the gross domestic product increased 8.8 percent, and last year it grew 6.9 percent.
From January to June this year, Peru's GDP has increased more than 6 percent driven by domestic demand that offset a slowdown in the global economy and its impact on mineral exports.
Scotiabank Peru is estimating that the country's GDP will expand by 6.5 percent in the third quarter of this year. Peru's third largest bank said this takes into account that the global economy does not further deteriorate and that its impact on the local market is minimal; that there be a reduction in social conflicts; and improved public-sector spending.
"All of the predictions that are given, including those by independent analysts, show that Peru is a country that, with its results so far, will be one of the biggest economies in South America and the Latin American region," said Luis Alberto Moreno, president of the Inter-American Development Bank.
"There isn't a country in Latin America that shows the growth that Peru has had in the past 10 years," he said, according to state news agency Andina. "Its growth has been 7.5 percent, which is closer to an Asian country."