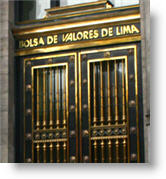 The Lima stock exchange and the country's currency tumbled on Thursday as part of a global sell-off in emerging market assets, due to statements made by the chairman of the U.S. Federal Reserve, Ben Bernanke, and new signs of slowing growth in China.
The Lima Stock Exchange fell almost 5 percent on Thursday, its biggest daily drop since 2011.  Bernanke said Wednesday that the Fed could pull back its multi-billion dollar-a-month bond buying.
Peru's stock market felt a further impact from the release of weak manufacturing figures from China. The manufacturing data added to other economic indicators that show a slowdown in the Chinese economy. A slowdown in China, the world's greatest mineral consumer, sent base metals prices falling. Peru is among the world's biggest producers of metals such as copper and zinc, and a decline in prices has a big impact on its economy.
The Lima Stock Exchange's decline was led by the mining index, which fell 7.3 percent on Thursday. Rio Alto Mining, a Canadian company that operates in Peru and is listed on the Peruvian bourse, saw its share price retreat 16.7 percent, while the share price of copper producer Cerro Verde fell 10.6 percent.
Other Latin American markets also declined sharply on Thursday.
Also on Thursday, Peru's sol reached its weakest level compared to the dollar in about two years. The sol finished at 2.793 to the dollar.