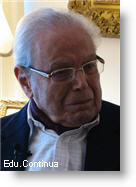 Javier Perez de Cuellar, the former Secretary General of the United Nations, has come out against a recall vote against Lima Mayor Susana Villaran.
"The mayor of Lima was elected by a majority and this election has to be respected legally and politically," Perez de Cuellar said, according to daily La Republica.
The 93-year-old former diplomat and politician said that the recall vote could harm Lima, as the process will cost of more than 100 million soles ($38.7 million).
"And that cost will increase if you add an eventual election for a new mayor. Is Peru in a condition to pay for this political maneuver?" Perez de Cuellar said.
Villaran is facing a referendum on March 17 that could see her removed from office two years early. She took office in 2011, and has been consistently criticized by  a group of opponents since she was sworn in, accused of being inefficient and mismanaging the city government.
But most analysts believe that the opposition is being driven by shady business owners and dealers who have a lot to lose with the city's reforms, and by Lima's former mayor, Luis Castañeda, who is facing an investigation into allegations of corruption.
Villaran has been credited with tackling several challenges in Lima, including a major plan to better modernize and organize public transport, and the successful relocation of the crime-ridden La Parada wholesale market to modern facilities on the outskirts at Santa Anita, a project that has been on the agenda for the past 40 years but that previous mayors, including Castañeda, were unwilling to attempt.
Perez de Cuellar said that Villaran is "an honorable, brave and enterprising woman."
Perez de Cuellar, born in Lima in January 1920, joined the Ministry of Foreign Affairs in 1940 and the diplomatic service in 1944. He was a member of the Peruvian delegation to the UN's general assembly at its first session in 1946.
He later served as Peru's ambassador to Switzerland, the Soviet Union, Poland, Venezuela and France. He was appointed the UN's Secretary-General in 1982 and held that position until 1991. He also served as prime minister during the nine-month Paniagua transition government between President Fujimori's resignation and the election of President Alejandro Toledo.