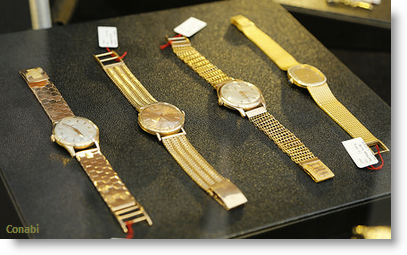 Peru's government has collected almost 600,500 soles (US$230,000) from the sale of gold watches and other jewelry owned by jailed ex-spy chief Vladimiro Montesinos, daily La Republica reported.
The National Institute for Seized Goods, Conabi, sold this week 83 of the 150 pieces of jewelry that once belonged to Montesinos.
"The number of bidders and the amount collected was higher than expected," said Maria del Pilar Sosa, president of Conabi. Sosa said the remaining 67 pieces that were not sold will be put up at a second auction.
The money is to be used to strengthen anti-corruption work in Peru's government.
The items included dozens of sets of diamond and gold cufflinks, gold chains, and 39 gold watches, some of which were custom-made for Montesinos. The most luxurious pieces included Patek Philippe, Longines, Piaget and Rolex Cellini timepieces, and one Corum watch with more than 300 diamonds that alone was valued at $160,000.
Besides the jewelry, there are also a number of lots that include gifts made to Montesinos over the years, most with more intrinsic value as memorabilia than any real market value, many of them birthday and occasion gifts made by the armed forces.
Montesinos was the chief of Peru's intelligence unit and the right-hand man of former President Alberto Fujimori, who governed Peru from 1990 to 2000. Both men are serving long prison sentences on corruption charges and human rights abuses. Montesinos' jewelry and other assets were impounded in 2000, and held in the Banco de la Nacion vaults when handed over to Conabi in 2013.