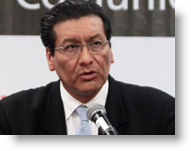 Peru's government said it is to take additional measures to improve road safety after several deadly bus accidents this month highlighted the dangers of its highways and roads, state news agency Andina reported.
Transport and Communications Minister Carlos Paredes made the statement after a meeting between representatives from the national government with officials from regional governments, the national police, transportation regulator Sutran, the municipalities of Lima and Callao, as well as a national council on highway security.
Paredes said the administration is working on modifications to the national traffic regulations, known as Renat, with the intention of lowering the number of accidents.
Paredes said that, according to police figures, only 2 percent of accidents occur on highways and narrow mountain roads, while the remainder are in cities. However, individual accidents on rural highways often grab media attention because they usually include a high number of  deaths.
According to official figures, 82 percent of the accidents are due to human factor, often excessive speed. The minister said it is important to create a "culture of road safety," according to Andina.
The number of fatalities on Peru's roads this year has increased some 37 percent. October has been a particularly deadly month. Fifty people, including 14 children, died when a truck carrying villagers home from religious festivities in a neighboring town plunged over a 200-meter cliff in the La Convencion province of the Cusco region. Everyone on board was killed.