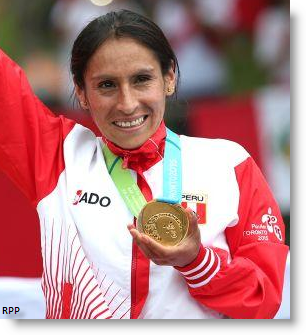 After the closing ceremonies at the Pan American Games in Toronto later today, Peru's athletes will be coming home with 10 medals.   Today, Peruvians are competing in wakeboard, the women's 5K, and the men's long jump and 10K, while yesterday they competed competed in table-tennis, waterski, boxing, tae kwon do, volleyball and soccer.
The highlights are the two gold medallists.
Former sports institute chief and long-time champion Francisco Boza won the gold in trap shooting and has now also qualified for his eighth Olympics.
Long distance runner Gladys Tejeda won the women's marathon and broke the Pan Am Games record, coming in at 2:33:03, a full two and a half minutes ahead of her closest contender.  Even so, her time was five minues slower than her personal record.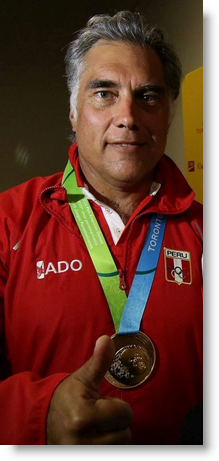 Sadly, Ines Melchor, who has been winning athletics meets across the continent for the past year, had to drop out of the marathon before the halfway mark due to an injury.
Tejeda, a 29-year-old from Peru's central highlands, beat out competitors from Venezuela, Canada, the United States and other countries across the Americas during a race in humid heat on the grueling, hilly course.  The silver and bronze medals in the marathon were taken by Adriana Da Silva of Brazil, at 2:35:40, and Lindsay Flanagan of USA, at 2:36:30.
"I am excited and thankful to the people of Peru, who I dedicate this to," Tejeda said after finishing her race. "I didn't expect to set a Pan American record, what was clear is that I came for gold."
Tejeda has become a well-known athlete in Peru, carrying the country's flag during the opening ceremonies at the London Olympics in 2012. She has been featured by international media, including the Christian Science Monitor, inspired by success after difficult upbringing in Peru's Andean mountains.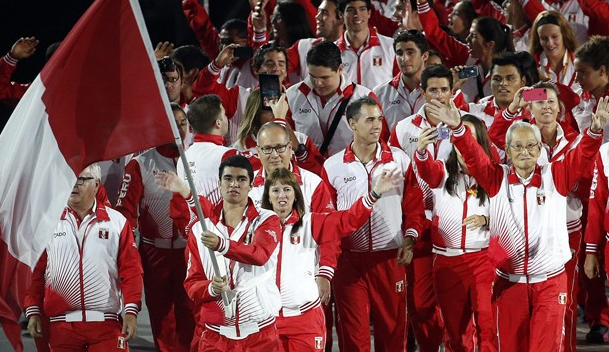 Tejeda, the youngest of nine siblings, is from Peru's central agricultural region of Junin, high in the Andes mountains. As a child, she used to run regularly in the countryside around her home, located some 4,000 meters above sea level, according to newspaper El Comercio.
At least during one race she borrowed shoes from a neighbor for lack of her own footwear. She came in second in that competition, losing out on the award of new kitchen appliances.
When she lost her father, she almost decided to give up running. "It was very hard. Losing your father isn't easy. I didn't want to run, nothing," she said.
But Tejeda's mother continued to support her, ensuring she had a warm meal waiting for her after each run. "My mom is a big piece for me. If she wouldn't have worried, I wouldn't have achieved all of this," Tejeda said. "She is very sacred."