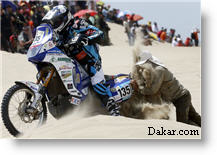 The Dakar Rally, the grueling off-road race, won't include a stretch through Peru next year, according to organizers of the race.
According to daily El Comercio, the race will start January 5 next year in the Argentine city of Rosario. Drivers will head north to the altiplano of Bolivia near Potosí and loop down through Chile to finish in the city of Valparaiso.
Bolivia will become the fourth Latin American nation to host the Dakar Rally, which was moved to South America for the first time in 2009 from Europe and Africa.
The decision to move the race to South America was based on security concerns in North Africa, following  a coup d'etat in Mauritania in 2008 and fears of terrorist attacks.
The Dakar Rally is considered one of the most dangerous motorsport events in the world.
Peru was included in the race for the first time in 2012, when the route started on the Atlantic coast of Argentina and travelled through northern Chile to end in Lima. In 2013, the race began in the Peruvian capital, travelled through Argentina to Tucuman, and finished in Chile's capital of Santiago.   The soft-sand desert stretch in Peru was rated more demanding than the harder surfaced Sahara.
Peru had hoped to repeat the 2013 success with Lima as the starting point. The race provides an important boost to the economy, with many of the benefits going to hotels and services, government officials have said.
The Inca Challenge
The Dakar Rally is expected to return to Peru in the future, however. The Minister of Trade and Tourism, Jose Luis Silva, said that the original agreement with the Dakar group was for a series of events over the coming years. Dakar will be involved in organizing an Inca Challenge race in Peru for 2014, the winners of which will automatically be included in the  Dakar Rally of the following year.