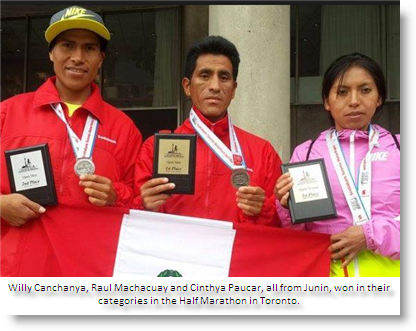 Two Peruvian runners took first and second place in the Half Marathon in Toronto on Sunday, clocking in a good three minutes ahead of Jeff Costen of Canada, who came in third.  There were 10,528 participants in the race.
Raul Machacuay ran the 21 kilometers in 1:04:19, while Willy Canchanya did the race in 1:04:50.
A third Peruvian, Cinthya Paucar, came in 16th in the overall placing but took first prize in the Women's category of 5619 participants, clocking in at 1:14:29.
All three runners are from the Junin region, living and training at an average altitude of 3,250 masl.
The annual Scotiabank Toronto Waterfront Marathon includes a full Marathon, the Half Marathon, and 5K.
The Marathon was won by Laban Korir of Kenya, with 2:08:15, followed 15 and some 20 seconds later by two Ethiopians, Tariku Jufar and Shami Abdulahi.