Less than three weeks from Peru's general elections, recent opinion polls have shown a sharp increase in support for Nationalist candidate Ollanta Humala and former Prime Minister Pedro Pablo Kuczynski, while former President Alejandro Toledo continues to lead but with a narrower margin.
The first poll by firm Ipsos Apoyo for daily El Comercio shows Toledo in first with 23 percent support, down three percentage points from the previous survey.
Congresswoman Keiko Fujimori, the daughter of jailed ex-President Alberto Fujimori, has maintained her spot with 19 percent support.
Meanwhile, Humala, who was narrowly beaten in the 2006 election by Alan Garcia, has overtaken former Lima mayor Luis Castañeda for third spot. Humala's support jumped two points to 17%, while Castañeda fell three points to 14%.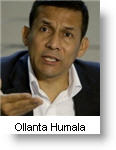 Castañeda, who had led the campaign in December before being overtaken by Toledo and Fujimori, is now tied for fifth with Kuczynski, who had the biggest climb of five points.
Another survey showed Humala gaining even more ground and Toledo slipping further. According to the Datum Internacional poll, released on Monday, Toledo has fallen 8.7 percentage points to 20.2 percent, while Humala has climbed six percentage points to second place with 18.5 percent.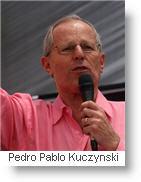 Fujimori fell slightly to 17 percent, Castañeda lost 2.6 points to 15.5 percent and Kuczynski jumped 5.4 points to 12.7 percent.
Humala and Kuczynski's rise in the polls is a result of gaining greater support in Lima from previous supporters of Toledo and Castañeda, Ipsos Apoyo director Alfredo Torres wrote in El Comercio.
In addition, Kuczynski has the most support in the wealthiest economic groups A and B, and strong support from C. His weakest support comes from rural Peru.
Humala has strong support in rural areas and economic groups D and E. His support in Lima has grown thanks partially to a more moderate image.
The decrease in support in Toledo can be explained by the success of attacks against his personal life, Torres said. Castañeda's most recent decrease could be related to a recent report by his successor, Lima mayor Susana Villaran, that alleges mismanagement of municipal funds during his administration.
The general elections, when 120 members for Congress will also be elected, are scheduled for April 10. If no presidential candidate receives 50 percent plus one of the votes, a run-off election will be held between the top two candidates on June 5.
"Currently, no one is guaranteed a spot in the run-off," Torres said. "What is certain is that the aggressiveness between the candidates will increase, especially now against those that are gaining ground and challenging the position of the leaders."