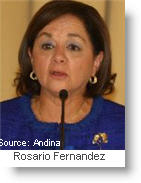 Prime Minister Jose Antonio Chang resigned on the weekend and has been replaced by Justice Minister Rosario Fernandez, daily El Comercio reported. Fernandez will continue as Justice minister for the remaining months of President García's administration.
Chang made the decision to step down for personal reasons, Fernandez said. Chang was rector of San Martin de Porres University before joining the Garcia government as minister of Education, and most recently as head of the Cabinet.  He has now stepped down from both government posts to campaign again for the position of rector in the upcoming elections at San Martin de Porres.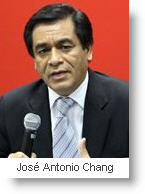 "The decision to go back to his private work was a strictly personal decision," Fernandez said. "All is calm [in the cabinet], there has just been a change in seats, that is all," she added.
Chang was awarded the Order of Sun , in recognition of his work in the Education ministry, during the ceremony to announce the cabinet change.
"It recognizes his work in the government and his permanent fight to safeguard the interests of the state considering the invaluable contribution to improving education in Peru during his term of four years, seven months and 18 days as the minister of education," the resolution announcing his award said.
President Garcia also swore in the new minister of Education, Victor Raul Diaz, and ratified the other members of his cabinet.