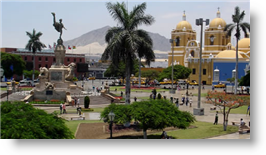 Social development in the northern region of La Libertad has not kept up with the area's strong economic growth, according to Finance Minister Luis Miguel Castilla.
La Libertad is home to Trujillo, the country's fourth largest city (after Lima, Arequipa and Cusco), with over 770,000 inhabitants.
"In La Libertad, there has been important development, and the evidence of that is that Trujillo is the city that has seen highest growth in employment in the last 10 years," daily La Republica reported Castilla saying. He added that despite this growth there is still a great deal of poverty in the region.
Castilla said that in addition to growth, there needs to be more effective public policies to reduce poverty. "It is urgent to invest quality human capital, in infrastructure, and to be more productive," he said.
The idea that economic growth alone isn't enough to reduce poverty is central to policies being pushed by President Ollanta Humala under the policy of social inclusion. Humala's administration created the Ministry for Social Development and Inclusion to focus specifically on social growth, and has expanded several government social programs that support low-income communities and individuals through the already long-established school meal programs, as well as a new nominal pension system for extremely poor older individuals.
While a quarter of Peru's population is still living below the poverty line, the country has seen its poverty rate decline sharply over the past decade. At the start of the 1990s, more than half of the population was poor.
Poverty is still rampant in rural areas and on the outskirts of large cities such as Lima and Trujillo. In regions like Ayacucho, Apurimac, Cajamarca and Huancavelica, about 50 percent of the population remains poor.