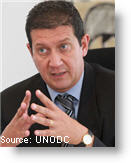 The United Nations Office on Drugs and Crime said Tuesday that Peru should look at setting up the first regional center for controlling chemicals that are used in the drug trade.
The UNODC's representative in Peru and Ecuador, Flavio Mirella, said there is a need for such a center in the region as the drug trade affects all of the countries in Latin America, state news agency Andina reported.
He said it is necessary to strengthen the capacities of governments to detect the chemicals especially in the border regions.
"You have to take into account that these chemical precursors don't come in with their name [into terminals], but they enter with other mixtures," Mirella said. "Before, if they came in as tablets, now they are in powder." 
 The chemicals used include lime, ammonia and sulphuric acid but ammonia is often replaced by sodium bicarbonate.   In Peru, the restrictions on kerosene have led coca maceration producers to use gasoline instead, a fuel difficult to control because of its widespread use.
Peru, Colombia and Bolivia produce virtually all of the world's cocaine, which is then largely shipped off for consumption in the United States and Europe.
Peru is the world's biggest producer of coca leaves, the raw material used to make cocaine.