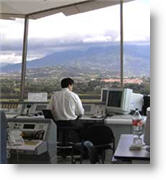 A strike by air traffic controllers in Peru could create delays and cancellations to travelers over the holidays, according to the Lima Chamber of Commerce's tourism committee president.
The airport controllers union has threatened to walk off the job from December 22 to 25 over a list of 16 demands. The demands include issues related to the payment of bonuses and overtime, as well as the creation of insurance in the case that workers lose their license due to issues such as physical disabilities or age.
The airport authority has declared the strike inadmissible, as it did a 48-hour strike earlier this month.
Alfredo Benavides, of the Lima Chamber of Commerce, said that the Air Force will use their personnel to replace the controllers in the most important airports, daily El Comercio reported.
This measure "will help the flights, but it is also going to be limited. There will be some delays, changes to flights or some cancellations," Benavides said.
The assistant manager of civil aviation authority Corpac, Frank Becerra, said that by law the union must provide three people per shift.
"As well, we have specialized people in aviation control," Becerra said. "At this moment, we are implementing a contingency plan to guarantee the continuity of service."