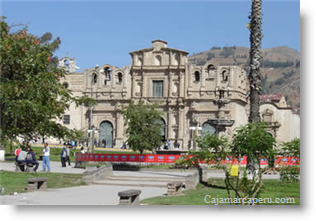 Authorities are hoping that tourism will bounce back in the northern region of Cajamarca next year, after seeing a sharp decline due to anti-mining protests.
Luis Reyna, the head of the Proturismo project, said that businesses have been trying to beef up interest in tourism in Cajamarca and now they are starting to see "positive signals."
Tourism and other economic activities in Cajamarca were hurt in late 2011 when large-scale violent anti-mining protests gripped the region.
The protests, led by the regional president, were against the development of Newmont Mining's $5 billion Minas Conga copper and gold mine. The conflict, which dominated Peru's national agenda, reached a boiling point in 2012 when several people were killed and the project was put on hold. Local communities were concerned the project could hurt their water supply.
Businesses and government authorities now hope that tourism will come back to the region. "We see 2014 as a year with a lot of hope for all of Cajamarca," Reyna said, according to state news agency Andina. "We've learned a lot in the past two years and we have to be very intelligent and have a vision for development."
Popular tourist sites in the region include the pre-Inca aqueducts of Cumbe Mayo, natural hot springs used by the Incas and the cobble-stone streets of the city of Cajamarca.