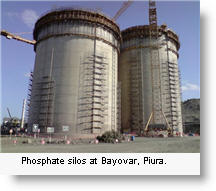 Brazilian investments in Peru could see a fivefold increase to $17.5 billion by 2020, according to the Brazilian commercial secretary in Lima, Cesar Bonamigo.
"Every day companies come to the embassy looking for information on how to invest in Peru," state news agency Andina reported Bonamigo as saying. "In the last few years, the number of Brazilian companies that invest in the country has doubled."
Currently, Brazilian investments in Peru total about $3.5 billion, Bonamigo said.
Major Brazilian firms that currently have investments in Peru include mining giant Vale, which operates the Bayovar phosphate fields in Piura department, and steel group Gerdau with its local subsidiary Siderperu.
Brazilian firms also have interests in numerous energy projects, including the $1.3 billion Gasoducto Andino del Sur pipeline that will move gas from Camisea to the port in the southern costal town of Ilo. The project consortium includes Brazilian firms Petrobas and Odebrecht.
One of the major Brazilian investments planned for Peru has been the multi-billion dollar Inambari hydroelectric project, located along the border region of Cusco, Puno and Madre de Dios regions.  
However, that project faced a setback last week with the Peruvian government terminating the temporary concession for the project amid opposition from residents.  Part of the protests in Puno were related to the Inambari project, but environmentalists are also concerned because the project would require not only flooding of part of a national park, but also moving indigenous Amazonian communities from their territories to flood the area.  
Brazilian consortium Egasur is the owner of the project. The dam would be Peru's largest hydroelectric project and fifth largest in Latin America. Egasur is expected to invest $4 billion in the project, which is slated to have an installed capacity of 2,000 megawatts of electricity. Most of the energy supply would be transmitted to Brazil.
Brazilian firms are also interested in developing rail line projects in Peru, particularly in the southern part of the country, Ambassador Bonamigo said.
"There is already a line from Mollendo (Arequipa) to the central highlands, but it will have to be continued to Brazil," he said.
Brazil is a major player in South America and increasingly around the world. Peruvian President-elect Ollanta Humala recently visited the country in an effort to build relations with Brazilian authorities before taking office on July 28.