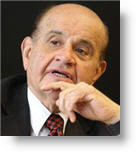 Peru's umbrella business association, Confiep, has said it will back an increase in the country's minimum wage, state news agency Andina reported.
The increase is part of a two-stage hike, for a total of 150 soles (approximately $55), that President Ollanta Humala promised during last year's presidential campaign. The first hike to 675 soles from 600 soles was approved in 2011. The second hike to 750 soles is expected to be implemented on June 1.
Humberto Speziani, until recently president of Confiep, said that the business group supports the increase, which will help some 600,000 people.
"You always have to have a base salary. Now we have to worry about formalizing the labor market, encourage and give measures that help small companies to become legally incorporated," he said.
Members of Confiep had previously expressed concern that the measure would hurt small and micro companies and could lead to greater informality in the Peruvian economy as those businesses would be unable to comply with the legislation.
Speziani also called for improved training of the labor force in Peru, in order to avoid "importing" professionals that are needed by Peruvian businesses.
"The young need to be well-prepared. The jobs are more technical and there is a shortage of professionals for these," Speziani said. "The economy has grown rapidly and the professional academic part has been left a little behind. It hasn't moved at the same rate," he added.