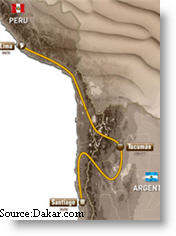 Peru is to host in 2013 the start of the Dakar Rally, the off-road race that the country hopes will provide a big boost to the tourism industry.
Foreign Trade and Tourism Minister Jose Luis Silva confirmed Wednesday that the start of the race will be in Lima on January 5 and will finish on January 20 in the Chilean capital of  Santiago.
According to Silva, the race will be viewed by millions of people from 190 countries, providing potential for Peru to showcase itself to the world and provide a significant boost to tourism.
If the southern Peruvian city of Arequipa, for example, is included in the race, local tourism officials expect that it will receive some 15,000 foreign tourists during the event, state news agency Andina reported.
The original Dakar Rally was begun by French racer Thierry Sabine in 1978, a rally across a distance of approximately 4,300 km between Paris and through the North African desert to Dakar in Senegal. 
Considered one of the most dangerous motorsport events in the world, the rally was moved away from Europe and Africa to South America for the first time in 2009, due to security risks in Mauritania. That country experienced a coup d'etat in 2008.
For the past four years, the rally has begun in Argentina, and Peru was included in the gruelling race for the first time this year, when it began in Mar del Plata, Argentina, moving through Chile and finishing in Lima.
The 2012 race provided a $520 million boost to Peru's economy, Silva said, with the biggest benefits going to hotels.
In 2013, the rally will begin in Lima and cover a total of 8,000 km in 14 stages between January 5 and 20 — across the southern Andes of Peru through Chile to Tucuman in Argentina and then re-entering Chile to finish in Santiago.  The rally is open to motorcycles, cars and trucks.