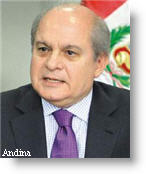 Defense Minister Pedro Cateriano said Tuesday that the government will beef up military bases in the central east jungle region known for being the country's top producer of coca, the leaf used to make cocaine.
Cateriano said during a presentation to the Congressional defense committee that the government will approve measures in the coming days to provide better equipment at military bases in the Apurimac, Ene and Mantaro river valleys, known as the VRAEM.
"We are urgently adopting measures," Cateriano said, according to state news agency Andina. "The President is aware and concerned about this situation." Congress recently granted legislative powers to the Executive legislative for specific issues in the modernization and strengthening of the military and police forces. 
Military officials have said recently that the bases in the VRAEM lack equipment, while the personnel sent to the bases are often not only young and inexperienced but inadequately trained.
The situation is of major concern because the VRAEM is not only Peru's largest coca producing region but also home to about 300 heavily-armed remnants of the leftist Shining Path insurgents, who provide protection to coca growers and to drug traffickers in exchange for money and weapons.
Attacks by the rebels in the VRAEM on the military are common. Five soldiers were killed last week when they were ambushed by Shining Path rebels during a night patrol. Another 10 soldiers have died in recent months, killed by snipers and in attacks.