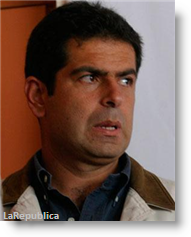 Bolivian officials have arrested a Peruvian businessman with close ties to President Ollanta Humala and his governing Nationalist Party, according to news reports.
Martin Belaunde Lossio, a former adviser to Humala and a go-to for many private business and government officials , was detained just outside Bolivia's capital of La Paz, where he had fled and was seeking asylum after being accused of running a large corruption ring.
Belaunde, who was active in Humala's first presidential campaign in 2006, was being sought for alleged links to the wide corruption network operating in the Ancash region, which also allegedly involves Congressmen Heriberto Benitez and Carlos Crísologo, as well as alleged real estate trafficker, Rodolfo Orellana.
Investigations, however, have widened to include his connections to the Humala administration and to lobbying members of Congress, not permitted under Peruvian law but widely practiced.  Three months ago, the Peruvian Sports Institute chief, Francisco Boza, resigned when it was found that he had contacted Belaunde to seek help in Congress on the sports budget.
When Belaunde, in hiding, offered to turn state witness for the prosecutiton, the State prosecutor turned down the possibility on the grounds that Belaunde is believed to be a ringleader in the Ancash corruption case rather than a mere player.
Bolivian police arrested Belaunde Lossio after an order from the Supreme Tribunal of Justice for his extradition. Bolivia's Government Minister Jorge Perez said that Belaunde Lossio called authorities to inform them of his whereabouts in order to turn himself in after he learned of the court order.
"He wasn't escaping from Bolivian justice or anyone," Perez said, according to El Comercio.
Belaunde Lossio's lawyer, Jorge Valda, was reported saying that his client would appeal the detention.
Belaunde Lossio entered Bolivia, reportedly illegally, in early December after authorities announced they were seeking his arrest in connection to several corruption allegations. He is also accused of using his ties to Humala and other officials to win lucrative government contracts.
Belaunde Lossio gave a surprise press conference on Jan. 9 in Bolivia's city of Santa Cruz, saying that the allegations against him were untrue and that he was being attacked for political reasons.
"I trust Bolivian justice," he said. "I will abide by the decisions of the Bolivian government."